raylib
A downloadable tool for Windows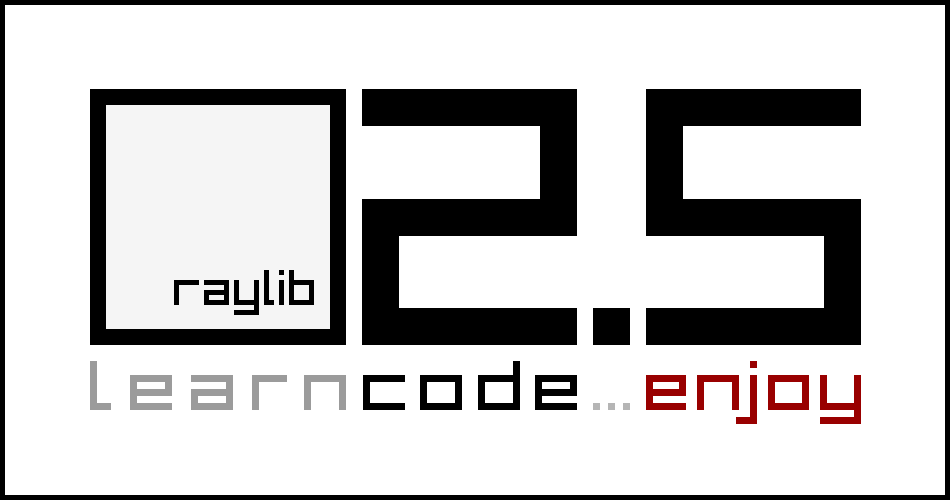 raylib is a simple and easy-to-use library to enjoy videogames programming.

NOTE for ADVENTURERS: raylib is a programming library to enjoy videogames programming; no fancy interface, no visual helper... just coding in the most pure spartan-programmers way.

Are you ready to learn? Jump to code examples!.
NOTE: raylib is being developed and maintained with big effort by Ray (that's me!). If you like the library and enjoy it, consider contributing to the project through the GitHub Sponsors program or raylib Patreon.
features
NO external dependencies, all required libraries are included in raylib
Multiplatform: Windows, Linux, MacOS, Android... and many more!
Written in plain C code (C99) in PascalCase/camelCase notation
Hardware accelerated with OpenGL (1.1, 2.1, 3.3 or ES 2.0)
Unique OpenGL abstraction layer (usable as standalone module): rlgl
Multiple Fonts formats supported (XNA fonts, AngelCode fonts, TTF)
Outstanding texture formats support (including DXT, ETC, ASTC)
Full 3d support for 3d Shapes, Models, Billboards, Heightmaps and more!
Flexible Materials system, supporting classic maps and PBR maps
Animated 3d models supported (skeletal bones animation)
Shaders support, including Model shaders and Postprocessing shaders
Powerful math module for Vector, Matrix and Quaternion operations: raymath
Audio loading and playing with streaming support (WAV, OGG, MP3, FLAC...)
VR stereo rendering support with configurable HMD device parameters
Huge examples collection with +95 code examples!
Bindings to +25 programming languages!
Wanna see all functions available in raylib? Check Cheatsheet
raylib is open-source and free to use. View license.
| | |
| --- | --- |
| Updated | 20 days ago |
| Status | Released |
| Category | Tool |
| Platforms | Windows |
| Rating | |
| Author | Ray |
| Genre | Educational |
| Made with | raylib |
| Tags | coding, Game engine, learn, Minimalist, Open Source, programming, raylib, tool |
| License | zlib License |
| Asset license | Creative Commons Attribution_NonCommercial v4.0 International |
| Average session | Days or more |
| Languages | English |
| Inputs | Keyboard, Mouse, Gamepad (any), Joystick, Touchscreen |
| Accessibility | Configurable controls, Interactive tutorial |
| Multiplayer | Local multiplayer |
| Links | Homepage, Patreon, Source code, Support, Community |
Install instructions
Just run installer and follow instructions.
Download
Comments
Log in with itch.io to leave a comment.
The autocompletion xml file for notepad++ included in 2.5 is still for the 2.0 version, right?
No, it's updated for raylib 2.5... or it should... did you do a clean installation?
Yes, you are right, i was confused by the line 1546 in c.xml saying "raylib 2.0 Autocompletion". Sorry.
Quick reference card is available.
When can we expect the full documentation for the raylib?
Take for example the documentation on the godot engine.
For beginners, it would be very useful.

For now, reference card is the full documentation... not enough resources for something better... for now...
please, post it in forum.raylib.com, we will try to find a solution... probably related to GPU...
When will raylib 2.0 be released?

"WARNING! raylib 2.0 is coming very soon! Stay tuned!"
So how much longer?
Sorry for the delay, preparing the library as a package with everything ready and setup takes some work...
raylib 2.0 is already available on GitHub master branch but I expect to have the installer ready by the end of July as late.
Thank you, sir, for such a fine library! I am a vb6 hobby game programmer and was trying to transition to C# for my third game. A friend at BlitWise recommended RayLib and I gave it a shot. I really like C thus far and Raylib has begun to make 3D accessible for me (and looks much better than my 'layered transparency' approach I was taking in vb6 for my 'dungeon view'). Certainly I am struggling with many things: some C related, and some related to utilizing RayLib. I try always to figure things out on my own but I am wondering if you accept specific questions and if so what is your preferred method of receiving them? Thanks!

Hello oklabsoft!
Thanks for trying raylib! Hope you enjoy it! raylib v1.8 is a bit outdated (6 months old) but I'm about to publish raylib 2.0 with lots of improvements!
I'm always open to questions and ready to help, in www.raylib.com top-right corner there is a bunch of network options to connect and ask for help, lately the most active one for quick questions is Discord server but for more elaborated questions I personally prefer raylib forum. You can also write me directly to ray[at]raylib.com if required.
Keep me updated with your projects! :)
Thanks! I am certainly loving it so far and actually making some progress. Knowing where to reach out for help if I get really stuck will hopefully keep me from the constant temptation to just go back and double-click that vb6 icon. :)
Keep up the awesome work and looking forward to 2.0!
Is 2.0 going to have networking ?? :D
not yet, sorry. I started working on some network functionality, UDP only, based on socket... but it won't get into 2.0.
Thank you so much for this!
Looks neat! Is it possible to develop on mac?
Can you actually make your own game? If so,can you put it on the games page on itch?